Many Thanksgivings ago one of my co-celebrants requested salmon for their meal. At the time, I joined in the gentle mocking of this person for their heretical main dish choice. (I have since learned that seafood was probably served at the first Thanksgiving AND apologized to the person for the mocking.)
While in day-to-day living no one could rightly accuse me of being a traditionalist, my resistance—in the form of mocking—was rooted in my attachment to the ritual as represented by the meal. I had conflated the food with the tradition.
To be clear: I deeply value the connection between food and ritual! I mean, I am the person who makes over 100 latkes almost every Hanukkah.*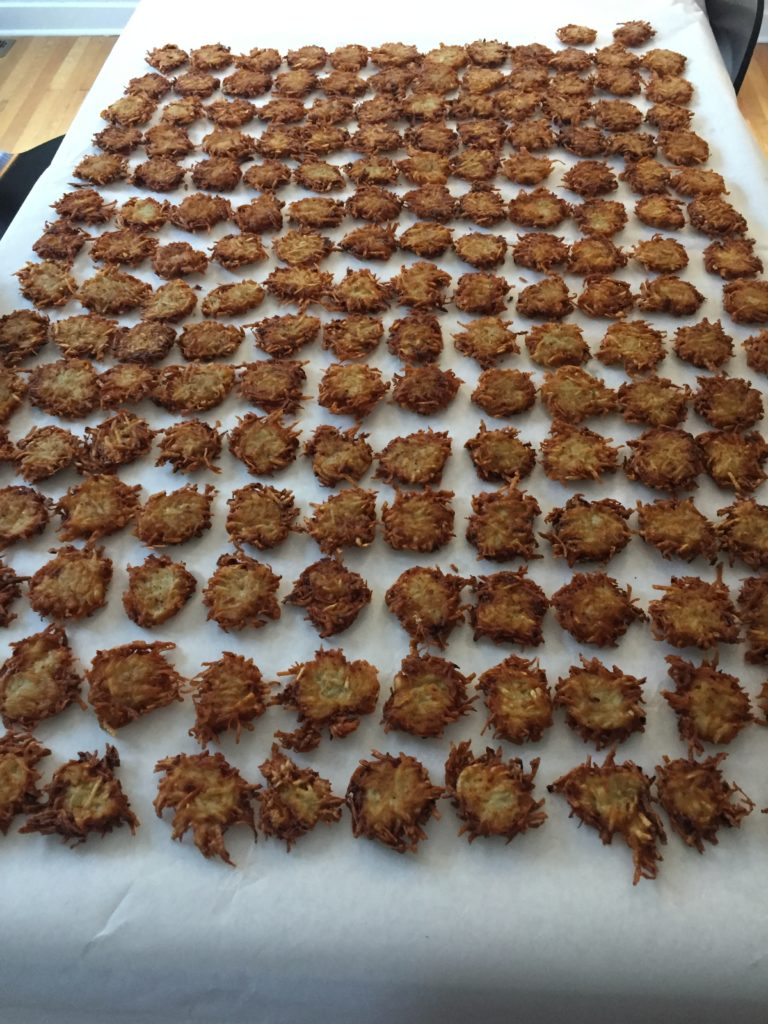 But the simple act of considering salmon made me question my own adherence to the turkey-and-stuffing regimen. It forced me to figure out what was really important about the day and the celebration.
My reflection made it official (oh-fish-al?): what I value has nothing to do with what each individual puts on their plate, but that they're there. What is important is knowing what is important.
Despite the highly dubious origins of the holiday, it can still be a time to connect, offer thanks and reflect…and maybe even try the salmon.
Try it!
Department of Practical Sunshine's Relatively Innocuous Conversation Starters
Looking to keep it light at your gatherings this year? Here are a few questions to get the conversation going!

-What would be the most (or least) useful superpower?
-Besides water, what would be the best thing to bathe in? (If you're brave, you can also ask the worst)
-What would be the best/worst thing to be famous for?
-What would be the best/worst name for an airline?
-If you had to live inside of a store, what store would be the best/worst one?
-What is the best/worst name for a yacht?
(other) Smart People
""Tradition is not the worship of ashes, but the preservation of fire."
—Gustav Mahler
Text…
---
Receive the "Slice of Sunshine" in your inbox by subscribing to the Department of Practical Sunshine newsletter.
Text…
Try it!
Text…