Productivity is not the be-all, end-all it is often made out to be (#fightgrindculture), but it is one part of feeling fulfilled and engaged. So, while Slice of Sunshine newsletters usually focus on the "sunshine," this issue we're going to focus on the practical from the Department of Practical Sunshine!
Here are five productivity tips that are in regular rotation at DPS. Keep in mind, there's no such thing as one size fits all, so give them all a try to see what works for you—and please let us know how it goes!
Write things down.
If you're spinning your wheels about something, write it all down (try a "brain dump"). If you have a slew of things you need to do, write them down, perhaps using a targeted task list. If you're setting goals for yourself, write them down.* If you have a brilliant thought, write it down (and maybe send it to us, too)! There are many studies showing that we remember things better and are more effective if we write them down. By hand. Even if your handwriting is atrocious. Or if you've kinda forgotten how.
*This is just one part of successful goal setting; if you're struggling to set or meet your goals, let's chat.
WHATEVER YOU WANT TO DO LEAST, DO FIRST
Whether it is cleaning the stovetop or sending off invoices, do the dreaded task ASAP. Not only will you feel amazing once you've completed it, you'll also reduce bandwidth leaks making your other tasks easier. Supercharge this tip by giving yourself a reward once the task is completed!
TAKE EVERYTHING "BIRD BY BIRD"
Anne Lamott's book contains an essay about her son being overwhelmed by having to write a book report about birds. Her solution was to tell him to just take it bird by bird. Using this as a shorthand, I remind myself that being methodical and breaking large initiatives into smaller pieces helps with overwhelm. This is another version of the saying about eating an elephant which I suspect would not pass the Trauma Informed Practitioner test.*
*Similarly, I have retired "kill two birds with one stone"—the preferred version is "feed two birds with one scone."
IF YOU'RE NOT SURE WHAT TO DO, PRETEND YOU'RE TEACHING SOMEONE ELSE
When you're stuck on a task, or on how to initiate a conversation, pretend that instead of you doing the task, you're teaching someone else how to do it. What background information would you need to give them? What tools would need to be in place for them to be successful? What would you suggest as their first step?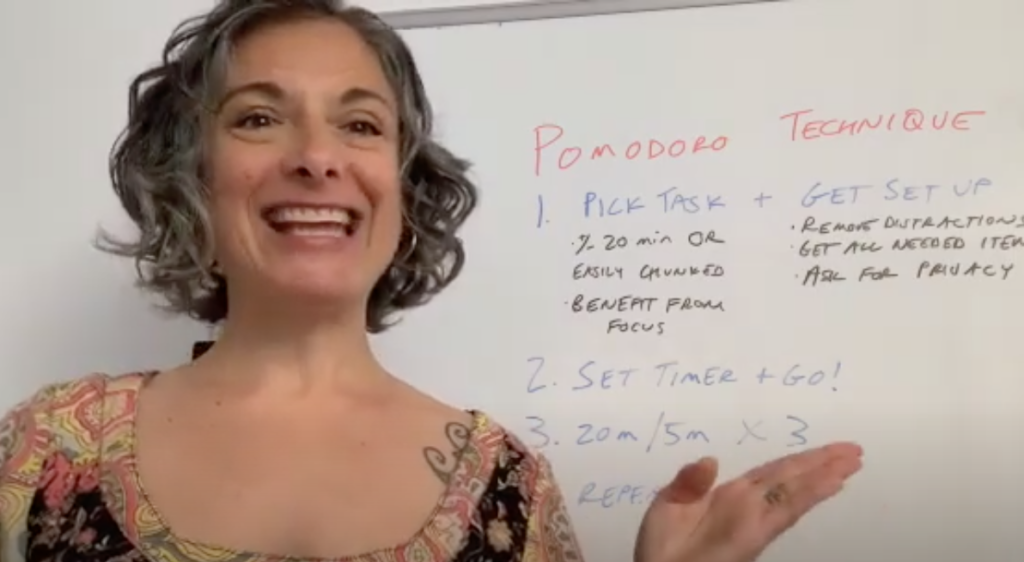 USE A TIMER
I love the Pomodoro Technique; here is a video of me describing how it works. Whether or not you go "full pomodoro," I recommend using a timer. Twenty minutes is my default. Whether it's to tackle what you want to do least, or taking something bird by bird, we can prevent burnout and create a sense of urgency—which usually increases productivity!—by limiting your time. (Of course, we don't want to create a false sense of urgency, just enough to get things moving!)
Text…
---
Receive the "Slice of Sunshine" in your inbox by subscribing to the Department of Practical Sunshine newsletter.
Text…
Try it!
Text…